From Grandma Carol
1st Layer: Mix 1 cup flour, 1 stick softened butter, and 1/2 cup pecan pieces. Press combined mixture into 9×13 pan. Bake at 375 degrees for 15 minutes. Remove and allow to cool completely.
2nd Layer: Combine and blend 1 cup Cool Whip, 8oz. softened cream cheese, and 1 cup powdered sugar. Spread over 1st layer. Refrigerate 15 minutes.
3rd Layer: Whip 2 small packages instant chocolate pudding with 3 cups cold milk. Smooth this over 2nd layer the top off with Cool Whip. Refrigerate until pudding is set. You can sprinkle with toasted sliced almonds or grated chocolate. You can also change this up and use a different flavor pudding such as banana or lemon.
1 Chocolate cake mix
1 can (14 oz.) sweetened condensed milk
1 small jar butterscotch topping
12 oz. whipped topping (i.e., Cool Whip)
4-5 Heath or Skor bars, chopped (I used 6)
Prepare cake according to directions on the package and bake in a 9 x 13 pan.
While still hot, use a wooden spoon handle to poke holes in the top of the cake.
Pour condensed milk evenly over the top, then pour butterscotch topping evenly over that.
Sprinkle half of chopped Heath bars over the top. Refrigerate at least 3 hours.
Spread whipped topping over cake, then sprinkle with remaining Heath pieces.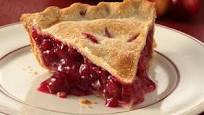 (Adapted from the Ball Blue Book of Canning – makes 4 quarts)
4 quarts sour or sweet cherries
3 cups sugar
3/4 cup cornstarch
1 cup water
1/2 cup fresh lemon juice
Wash and dry the cherries. Pit them over a bowl, reserving all flesh and juices. If you really like cooking and baking with cherries, it really is worth it to buy a cherry pitter. I'm not one for single use kitchen gadgets, but it really does the job. If not, just halve the cherries and remove the pit.
Whisk together the sugar and cornstarch in a bowl. In a large pot, whisk together the water and lemon juice, then add the sugar and cornstarch in, whisking well to combine and remove any lumps. Bring the mixture to a boil.
Add the cherries and bring to a simmer. Simmer, stirring occasionally, for 8 to 10 minutes, or until the cherries have softened and the juice has thickened.
Ladle the mixture into sanitized canning jars, leaving 1 inch of headspace. Fasten the lids to each jar, and transfer to a boiling water canner. Process for 30 minutes, then remove and let cool completely at room temperature. Check the seals, then store in a cool, dark place.
Note: One quart of filling makes one 9-inch pie.
Cilantro Cream Sauce/Dip

Monica Moore

1 (8 ounce) package cream 

cheese, 

softened


1 tablespoon sour cream or plain yogurt


1 (7 ounce) can Herdez salsa verde


1 teaspoon freshly ground black pepper

1 teaspoon celery salt


1 teaspoon ground cumin


2 teaspoons minced garlic

2 bunches fresh cilantro, chopped


1 tablespoon fresh lime juice


Cayenne pepper to taste
Combine cream cheese, sour cream, salsa, pepper, celery salt, cumin, garlic, cilantro and lime juice in a blender or food processor. Blend until smooth and creamy. Place in a serving bowl.

This is not a family recipe; I actually found it on line but couldn't stop eating it. It goes great with Green Chili and Lime corn chips from H.E.B. !
Ingredients
3 cups chopped peeled tart apples
2 cups fresh or frozen cranberries
1 cup sugar
3 tablespoons all-purpose flour
Topping
1-1/2 cups quick-cooking oats
1/2 cup all-purpose flour
1/2 cup packed brown sugar
1/2 cup butter, melted
1/4 cup chopped pecans
Directions
Combine apples, cranberries, sugar and flour. Pour into a greased 11×7-in. baking dish. In a separate bowl, mix topping ingredients until crumbly; sprinkle over apple mixture. Bake at 350° for 50-55 minutes or until fruit is tender.
Recipe by Courtney Lehman (Phillips)
I do need to preface, that I do not follow recipes explicitly, I almost never measure the ingredients and tend to work with what's on hand. The quantities I do include below will be based on one pound of cranberries. If you want extra to give away, make two batches!
INGREDIENTS:
1 pound fresh cranberries (about 4 cups)
1 (20oz) can pineapple chunks/diced
2 cups sugar (I do half honey, half sugar or half brown sugar)
1 tbs vinegar (white or apple cider)
Spices – There is lots of wiggle room here. If you don't care for something, omit it. The sauce is sooo sweet that you really have tons of room to play with spice – I have added nutmeg and even mace to recipes. You can use a hot chili or pepper of your choice to give it a kick and a different palette.
1/2 tsp dried or 1 inch fresh ginger, chopped
1/2 tsp cinnamon
1/2 tsp allspice
2 whole cloves
1/4 tsp salt
Optional Add Ins:
small diced apples
1/2 c raisins (any style)
1/2 walnuts
diced orange or lemon
PROCEDURE:
1. Strain out all the pineapple juice into an appropriately sized sauce pan. This will "pop" so a deeper or oversized pot is helpful.
2. Add all the spices and sweeteners, vinegar and cranberries, raisins.
3. Cook on medium-medium high heat until the cranberries start to pop stirring occasionally so that the bottom does not burn. Cook until most of the cranberries are all the way popped. If you find the chutney too thick slowly add some orange or apple juice. (Up to 1/2 cup).
4. Add the pineapple chunks and any other fruit in the last 15 minutes of cooking.
5. Add nuts in last and remove from heat. Cool completely before sealing in glass jars.
OTHER NOTES
It will keep in the fridge very well.
It pops and crackles like bacon grease so be careful.
It will completely stain any wooden utensils you use.
I've recently read a few mods that add fresh cherries into the mix.
You may find that you need more liquid if you add lots more fruit. Cook it to your desired consistency. It will thicken up when cooling. I usually make mine so that it's over stuffed and almost no bites are only cranberry, but you could also put less of everything to make it more bland.
When I cook a double batch I put it in a stock pot; a single, usually in my "spaghetti pot"
This was Monica's entry at the Iola Chili Cook-off this year:
5 pounds 80/20 hamburger
2 70 ounce medium picante sauce
2 14 ounce Slovacek's all-beef sausage
2 10 ounce Rotel (original)
2 tablespoons minced garlic
3 15.5 ounce cans red beans, drained
2 packages 2 Alarm Chili kit (no masa)
2 32 ounce beef broth
Brown and drain hamburger.
Place in 18 quart roaster pan.
Cut up sausage in 1/2″ pieces, brown, drain, and add to hamburger.
Add picante sauce.
Ingredients:
6 large eggs
1 1/4 cups milk (whole or 2 percent)
1 cup Fireball Cinnamon Whisky
2?3 cup half-and-half
1/2 cup sugar
1/2 tsp ground cinnamon
Pinch of salt
1 loaf challah or brioche bread, cut into 3/4-inch-thick slices
1 tbsp unsalted butter, plus more for serving
Maple syrup or apple butter, for serving
1 ½ oz Absolut Elyx Vodka
Fever Tree Ginger Beer
¾ oz ginger syrup
½ oz fresh lime juice
½ tsp molasses
Gingerbread spice and mini gingerbread house topper for garnish

Directions
In a copper mug mix the vodka, ginger syrup, lime juice, and molasses. Add crushed ice and top with ginger beer. Sprinkle gingerbread spice and place mini gingerbread house on rim.
Corn Husks
4 or 5 bags of corn husks. Maybe more.
Clean while still dry. Remove all the dry corn silk and debris from them while they are still dry.   An easy way to do it is to shuffle them outdoors in front of a fan pointing away from you. Pour enough hot water in the cooler till they are covered. You may have to place something heavy on the husks initially to keep them below the water.
Soak them in a hot water in an ice chest over night.  By morning they should be pliable.
Masa:
18 cups Masa dry Maseca (1 bag – 4.4lbs.)
13 C. very warm water
3 lbs. softened (room temperature) Armour Star Lard
6 Tbs… Salt
2 Tbs. Paprika (or more for color)
3 Tbs. Baking Powder
Prepare the masa according to the directions on the bag.  Once you've reconstituted the dry masa into moist masa ready to use, add the rest of the ingredients.  Work the masa until it is so light that a small piece of it will float in a glass of water. This requires quite a bit of kneading, and beating.  Taste the masa mixture for salt. Allow it to rest for 15 or 20 minutes.
Meat Filling:
24 lbs. of pork roast (raw pork butt roast)
6 heaping Tbs. spoons of minced garlic
8 Tbls. salt
4 Tbs. of whole cominos freshly ground
4 Tbls of peppercorns freshly ground
1 entire bottle of Gebhardt chili powder or more to taste. (3oz. bottle)
You should cover your table with several layers of newspaper to protect it.  You will also need a bowl of warm water  to rinse you hands and a roll of paper towels.
While you are preparing the filling you should have your helpers smearing the masa over the corn husks so as to save time.
Roast the pork roasts in a turkey roasting bag (less of a clean up job) in the oven 2 or 3 days before making the tamales.   When meat is cool to the touch remove all chunks of fat from the meat and shred the meat.  Refrigerate the meat till the day of the tamalada. Strain the juice from the pot so you can use it to prepare the filling. If you refrigerate the juice the fat will rise to the top and you can discard it and use only the juice. Pour about 1/2 a cup of olive oil or  fat from the roast in a large pot and add the garlic, salt and ground up cominos, peppercorns and the chili powder to release the flavor and aroma.
Add the shredded meat to the spices and enough juices from the meat, warm water or chicken bouillon to moisten the meat and mix the spices.  Cook the filling until all ingredients are well blended and you have a filling that resembles chili.  It should be very thick. Any of the spices may be increased or decreased to suit your taste.
At this point you will want to arrange your helpers so you have an assembly line.
You'll need some spreading the masa on the husks and one or two putting the filling. Then someone packs them in baggies.  This same person can take care of bringing fresh husks to the table as needed.
Spread the masa mixture to about 1/8 inch thick with the back of a tablespoon to the bottom two thirds of the husk.  The bottom being the straight edge or that which had been attached to the cob. Another way to smear the masa on the husk is to hold the husk with both hands leaving your thumbs on top and your fingers underneath. Place about 1/2 a cup (approx.) on the lower part of the husk and smooth it 2/3 of the way up using both thumbs to smooth the masa on it.  To each masa smeared husk add a tablespoon of the filling or more depending on the size of the husk. Place the meat vertically on the center of the husk leaving about 1/2 an inch on both the bottom and top of the masa to seal the meat in. Fold the sides toward the center snuggly then fold he pointed end down.
You may want to freeze your tamales.  To freeze them use 1 gallon freezer bags and place six across at the bottom and 6 more on top of that row. Make another similar stack so you can put away 2 dozens per bag.
Cook
Steam the tamales in a large steamer pot.  If you don't have one, place a steaming rack on the bottom of a large pot. A canning pot (Navy blue with white speckles) will do.  You should have about 3 inches of space between the bottom of the pot and the steaming rack.  Make and place a 3" wadded up ball of foil in the center of the pot to lean the tamales on to form a teepee.  Place tamales all around the foil with folded sides down facing the center of the pot, and the open end up so the masa and filling won't leak out as they steam. The first tamales will rest on the ball of foil to form a teepee.  All the others will rest on that first row of tamales.  Fill the pot with tamales going around and around till you get to the top making sure you can put the lid on it. Place pot on stove top and CAREFULLY pour boiling water in the pot on the edge so as not to pour it on an open ended tamale. Pour only enough water to fill the bottom of the steaming rack.  You don't want your tamales to float in the water. Continue to cook on stove top with heat at med-high; they will cook with the steam. Check them after 15 minutes.  You don't want the pot to dry up. Add more water as needed. For freshly made tamales steam for 30 minutes more or less.  For frozen tamales steam at least one hour. Check them after an hour, they may need more time.  The masa should be separated from the husk on the ends before they are ready.
Tamales are done when the masa no longer sticks to the husk. They may be served with a salad, refried beans and guacamole. I find that they taste very good with cranberry sauce also.
Makes approximately 32 dozen tamales.